Bubble Logger Project
A build-you-self fermentation and activity logger to monitor your fermtation. Arduino based and send data til Ubidots or Brewfather.
Fermentation/Activity/Temperature Logger (BPM + SG)
The Bubble-logger reports the yeast activity though CO2 "Blops pr. Min" (BPM) measurements. It can estimate the reduction in gravity (rG) and hence give an indicative SG value. A complete airtight system is needed as we measure CO2 release and by polynomial/modellistic approach we turn the BPM into rG/SG estimates with currently a geomatic value of +/- 2 SG units. To do this we take into account the pressure and temperature of the wort.
Let us build TOGETHER!
Send your data till either Ubidots or Brewfather.
The data can be send till either Ubidots.com or Brewfather.app. The Logger send BPM, temperature, rG/SG and "Sum BPM/L".

Furthermore, the logger can act as temperature controller for a single side relay controlling a slow-working heating actor.
Let us build TOGETHER!
"Builders´s-Ware" Concept !
You build your own device(s) = "BUILDERs-WARE". This build is a NodeMCU (Arduino CPU), a ds18b20 temperature probe and a sound sensor – very easy to build and cost around 10-11$. The software is freeware, and you can try the software out before adding/requesting a free license. If you make use of the software we ask for you to consider a donation.

Let us build TOGETHER!
What is a Bubble-Logger?
The Bubble-Logger is an Arduino device there monitor your fermentation in regards of Temperature, indicative reduction in Gravity (rG), CO2 blops pr. minute (BPM) and display this information into Ubidots or secondly Brewfather. It can also control a heating mat or other slow-working heating-argent.
How to build a Bubble-Logger?
Building a Bubble-Logger is easy and needs no soldering nor any Arduino skills. This build is a NodeMCU Arduino CPU/board, a ds18b20 temperature probe and a sound sensor – very easy to build, cost around 10$. Just connect the 3 eletronical pice, download the software (bin-file) and uplaod by NodeMCU flasher.
(looking for Inferred version, please see this post as I have discontinued this part of the project for now).
How to use a Bubble-Logger?
The Bubble-Logger got a Captive Portal mode to enter parameters and else works autonomous sending data til Ubidots and/or Brewfather. You should use the BPM, SG and "Sum BPM/L" till judge how far the brew is and take hydrometer measurement accordingly.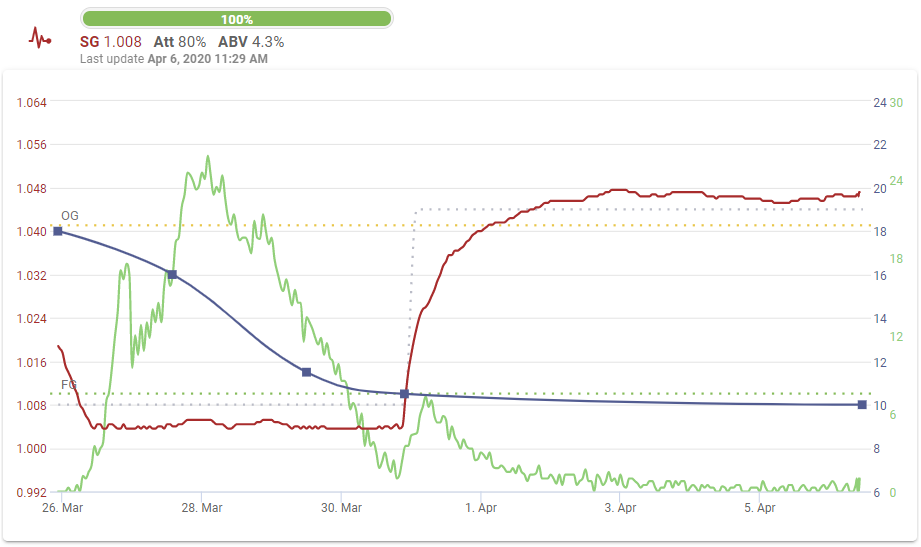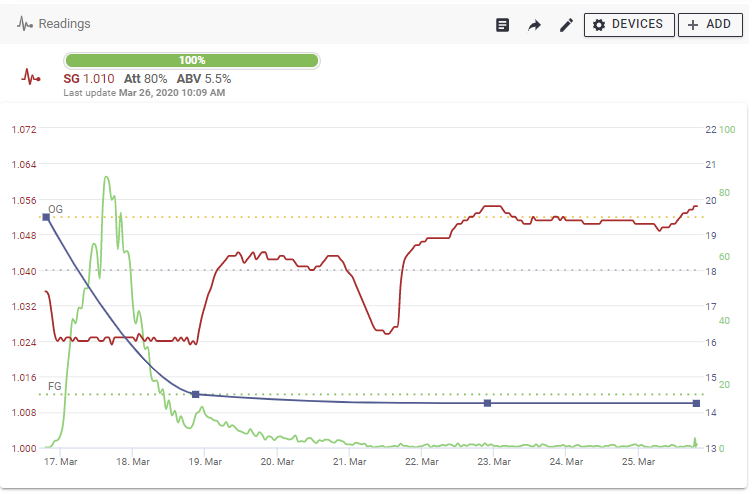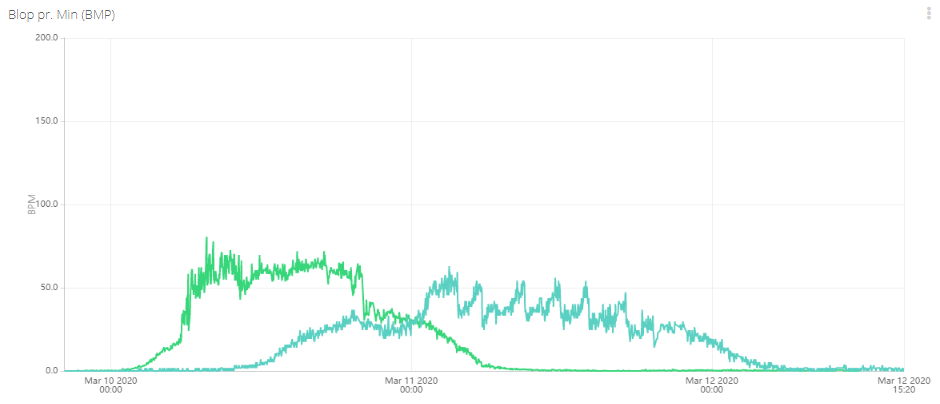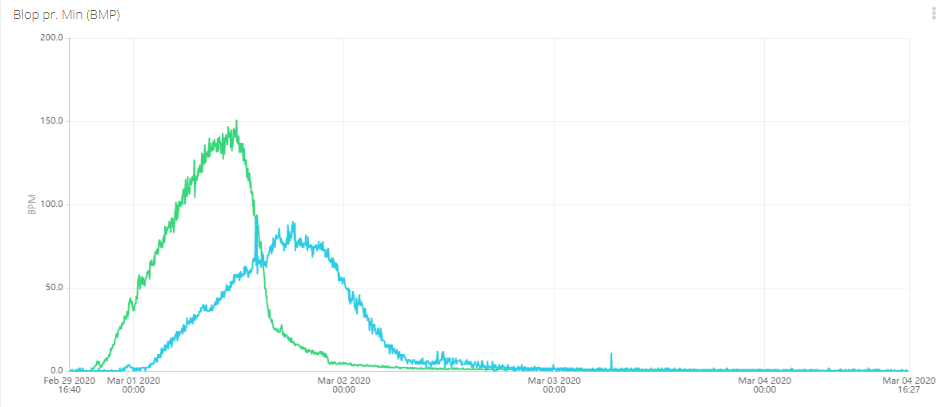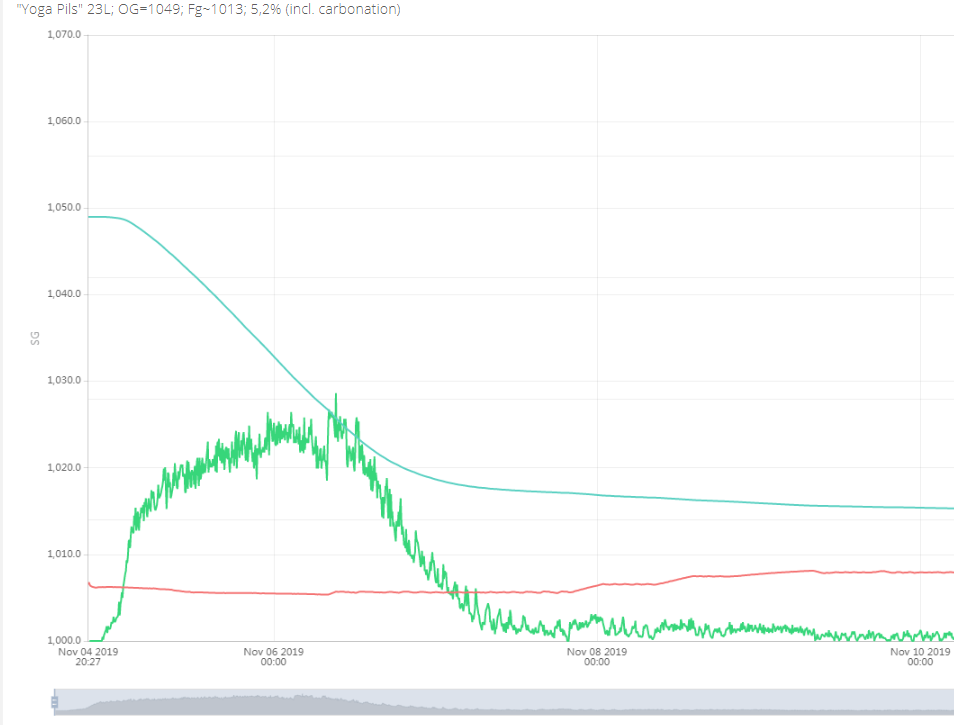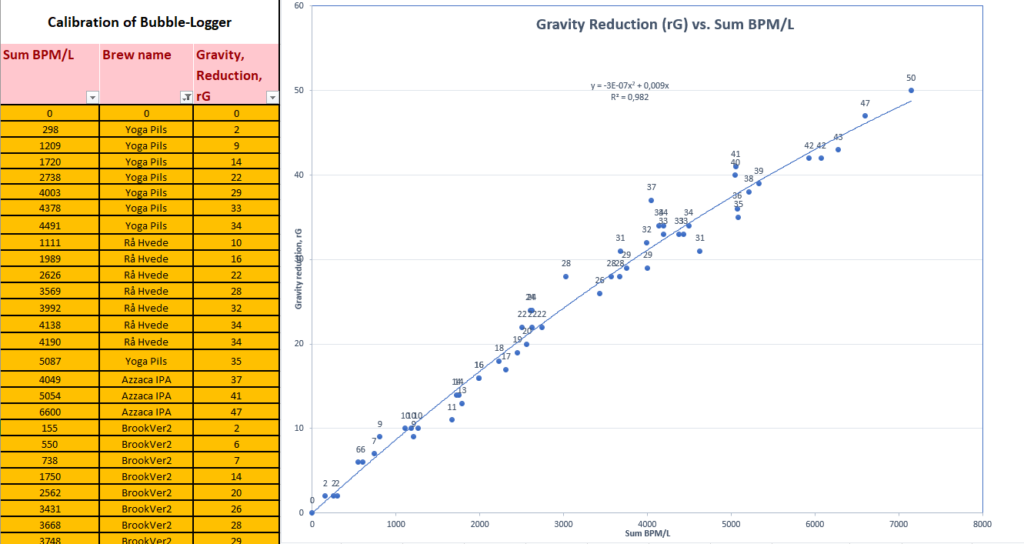 Theory behind this project ?
What we meassure is as said the Blops pr. Min comming when CO2 is released, e.g. BPM, and if we look at the chemistry behind the metabolisms of fermentation of sugar by yeast cells, we see one part Alcohol generate two part CO2. Hence, CO2 is a direct measument of the alcohol production. The key issue is to measument this gas accuarate and precise. Hence, the need of sealed airtight tanks.