To use the Bubble-Logger after building and installing the software you just need to turn it on. It will for 180 seconds go into "Captive Portal" mode where all setting can be done (E.g set Ubidots Token, Brew Name, SSID+Password, Brew Size, start Temperature, License, OG, Offset temperature  and Brewfather URL).  It light blue when in "Captive Portal" mode (and also blink blue when sending/treating data). 
Connect till the "Bubble Logger CONNECT" SoftAP though either you mobile phone or laptop by Wifi.  After connect till access point the Bubble-logger url for the configuration page is: 192.168.4.1 
Set the various parameters accordingly (Currently, you need to set SSID+Password every time you enter "Captive Portal" mode, so you need to set SSID+password even you just changed one parameter. A bug we are working on).
If or when you need to make updates prior to next run (e.g. that would be Brew name, OG and Brew size) you just turn it on and yet again you will have 180 sec to make the changes before the Bubble-Logger should proceed. In case the Bubble-Logger incidentally restarts, it will go into monitoring mode again after the 180 secs (e.g.. if power goes offline, etc).
BUG.1: Currently, you need to set SSID+Password every time you enter "Captive Portal" mode. 
Pictures showing the SETUP GUI of the Bubble-Logger:
---
After you entered all you data you can check them by finding the IP address of the logger (either use router IP table or a software tool as Advanced IP Scanner) and get the following. The webserver needs one run/cycle to be fully initiated:
The Bubble-Logger do write the most of the data till the SPIFFS solid state ram of the NodeMCU and hence do not need to store data online, but it need an internet connection for obtaining data for calculation. Important: You must ensure the naming of the brew is not the same as a former brew as else the logger will think you are continuing this brew,
No license
If no license is entered you only see part of the above data, hence, if no license installed you will only see BPM and Temperature. Secondly, you will not be able to get any rG /SG estimate.
OPTIONAL – Send data till Ubidots STEM
If you entered an Ubidots Token the Bubble-Logger make a device at Ubidots of "YOUR name" and push the following till Ubidots STEM, "rG", "Temperature", "BPM", and the current "Sum BPM/L" of BPM. The script push data every second minute.
Based on the data you can create a Dashboard and graphs with your data as you wish.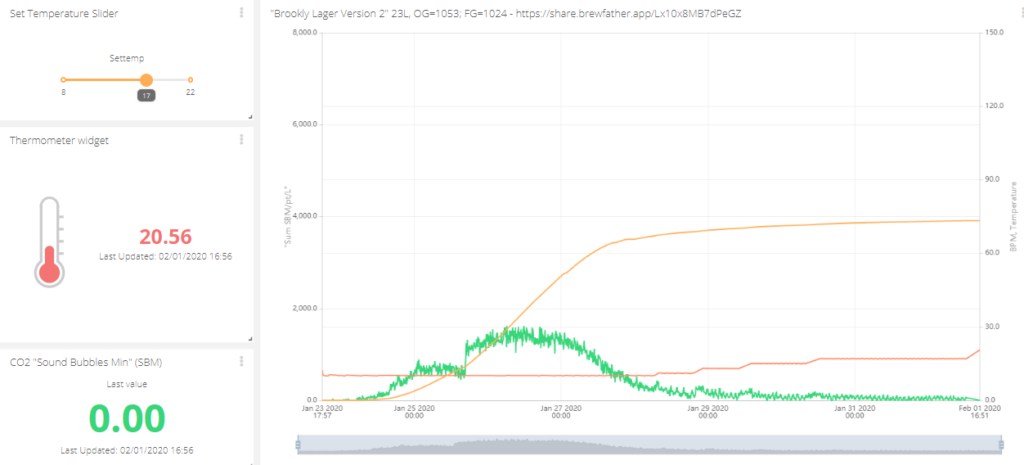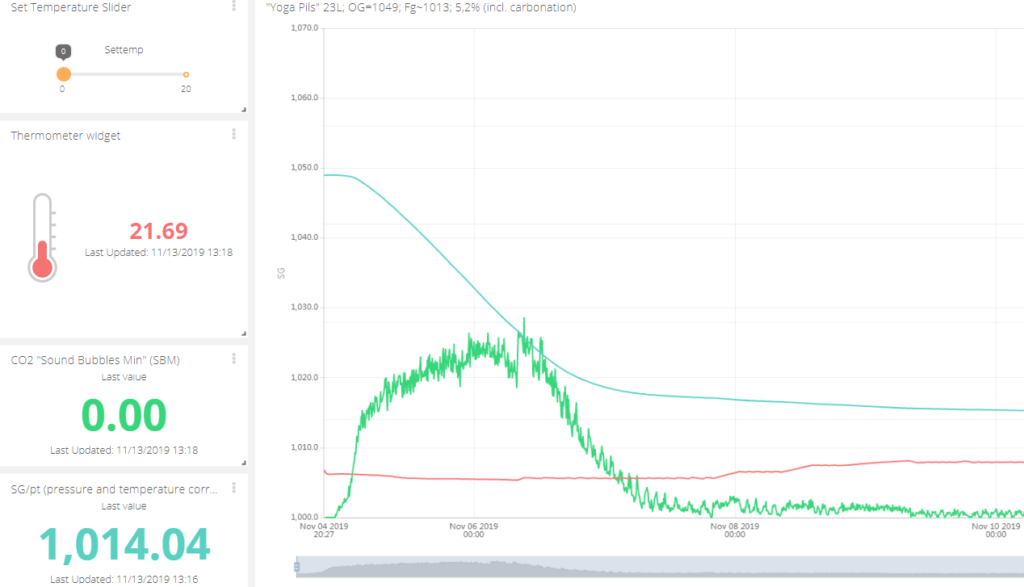 Please notice, Ubidots STEM allows only 3 devices (brewing) and hence you need to delete unused devices accordingly. You will need one Ubidots STEM account pr. Bubble Logger.
OPTIONAL – Sending data till Brewfather
You can send data till the "stream" function of Brewfather (please read at brewfather for how to do this) and attach the logging til your batch: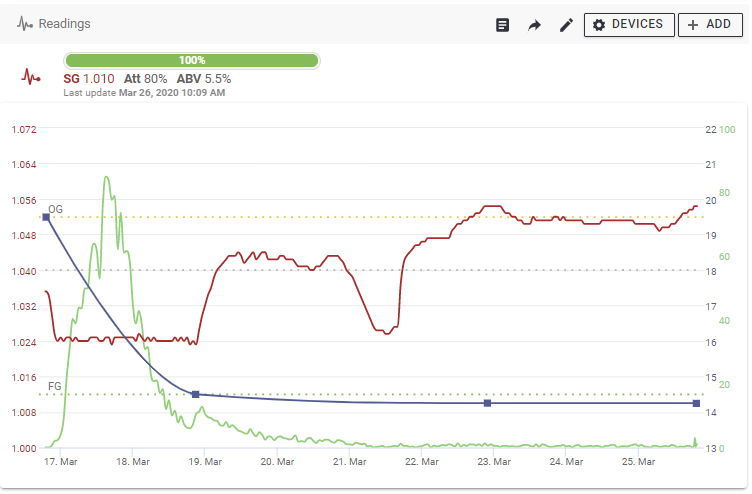 If you have not entered license you will not get rG/SG estimate into brewfather, but can ofcouse enter you won measurement as above picture shows.
Important:
4-4,5ml in S-Airlock.
I use both a small scale wight and a syringe to ensure the 4-4,5 ml water, e.g. double measurement! 
Use a fermenter there is airtight.
Be a "Leak Hunter"!
Set the Brew Name in the Bubble-Logger.
Take notice of your amounts in Liters and set this in Bubble-Logger setup.
Enter OG in logger.
Consider to check the polynomial.Take gravity measurement and compare them to Logger reported rG. If needed update polynomial by plotting rG vs. "sum BPM/L".
Make use of slow and controlled fermentation and/or good headspace.
Currently, you need to enter and set SSID+Password every time you enter "Captive Portal" mode. A bug we are working on.
Currently only tested on 9-25L brews (13 – 31 Liter fermeter). 
Steady WiFi is needed for the logger to obtain data it needs for calculation (e.g. surrounding pressure). 
---